Tuesday January 16
Designing a set is complex. Our set needs to be portable - made in Bedford, NH and transported to The Derryfield School stage for assembly. Our cast is large and our production numbers expansive - so space is key. Our set designer is Martine
Archambault and she is pure artist. Our design quest begins with script analysis clarifying setting requirements. Next we discuss space demands and how to best consolidate our pieces to optimize space and maximize impact. Two pieces are stationary and the remaining pieces are two sided. Our goal is always to minimize set changes adding to the pace of our show. Martine presents drawings or models and we agree on our design plan. And that is where we are at this writing. Here are Martine's drawings - the Banks study, parlor, kitchen, upstairs bedroom, an exterior flat with a movable roof, a cathedral flat, Mrs Corry's store flat, and the bank flat.
And there are some surprises as well. But, you will have to wait to see those.
Here are our initial plans.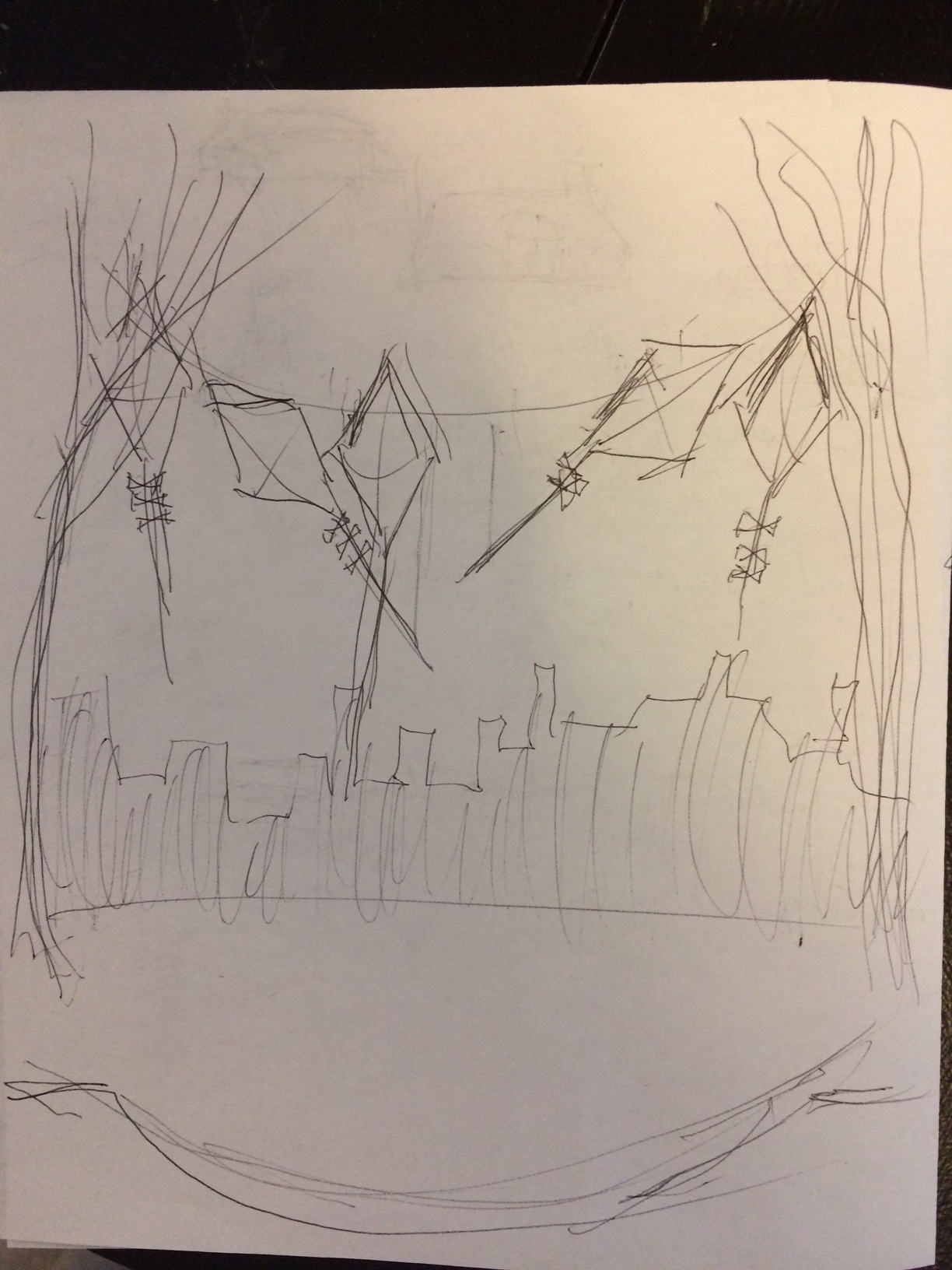 Friday January 19
Here is Jack Lavoie. He plays Bert in our production of Mary Poppins. Bert is a key role and there is a lot of work to do to get Jack ready to breath life into this colorful character. But, for now, he sits and waits. It is the sausage making thing and it is challenging.
As we build the pieces of our production there are just times when cast members need to sit and wait as Jack so aptly demonstrates. The challenge here is what do you do with the down time and then how do you shift gears when called into action to rehearse. The answer lies in the discipline of the rehearsal room yielding the desired outcome of a focused performer.
So what is a cast member like Jack to do? Ask Charlotte Ronan. When Charlotte was not actively working on a piece she stood in the back of the rehearsal room and reviewed the choreography that she has learned. The quick fire pace of our rehearsal schedule is demanding - seven pieces of choreography in three weeks. Charlotte has the answer - practice. Make smart use of every moment and practice. In the words of Vince Lombardi "Practice does not make perfect. Only perfect practice makes perfect."
Jack did just that. He watched, he observed, he practiced and patiently waited. Then he jumped right in when called. Ready to work. Can't wait to see what is ahead - thanks Charlotte, Jack, and a hard working cast.
Saturday January 20
Storytelling through movement is multi-layered. It is not as simple as stringing together a series of steps and movements into a piece of choreography. It is sort of like building a house. You have brick, stone, lumber, shingles and such, which are your building materials. You have the architectural designs, which guides the building. You have the building supplies of nails and mortar, which hold the materials together. But, ultimately it is the craftsmanship of the carpenter that gives it form and makes it a home.
The same is true of choreography. Jess has taught all of the steps and now we give it form - we create the look, the feel - the story of the music through the dance. It is the movement that connects the steps and the quality of the dance of the steps that weave the story.
Take a look at "Step in Time". When our chimney sweeps enter they have been directed to move from a point offstage to the point on stage where their choreography begins. Simple. Or is it? Just walking. But, how does a chimney sweep walk - well, with a confident, deliberate attitude. Watch Megan Spencer. She is petite in stature but grande in attitude. There is the essence of our chimney sweep. And - then - the choreography begins.